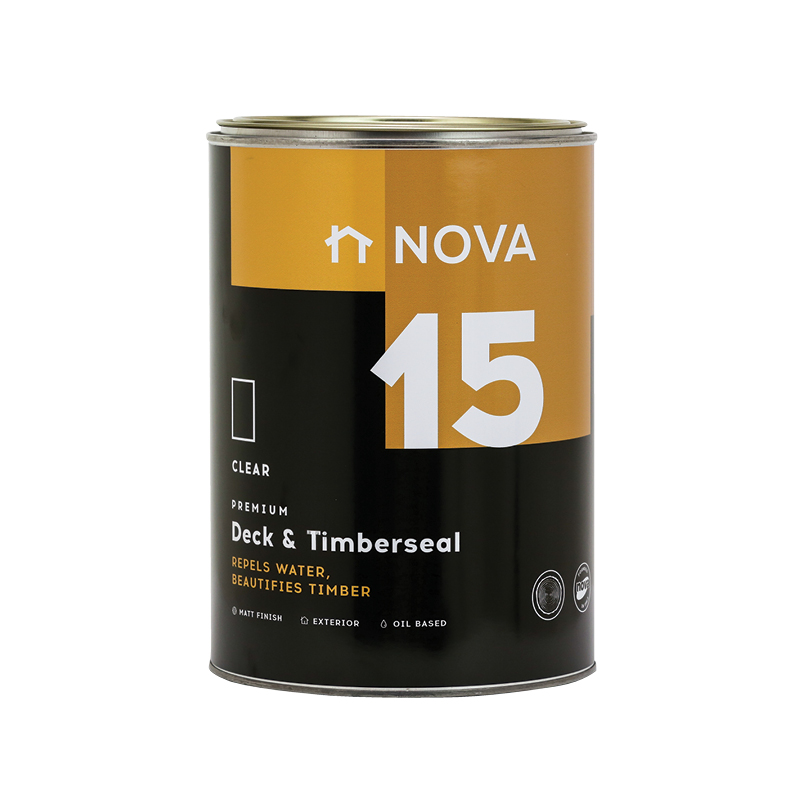 A high-quality oil-enriched sealer, which penetrates deep into the wood, protecting and sealing surfaces against moisture, mildew, sun, heat and cold. UV stabilized, with anti-wood borer and anti-termite ingredients, it will not crack, peel or blister. Over-coating is simple, as preparation is minimal, provided the wood has not been allowed to deteriorate.
Suitable For Use On: Garage doors, gates, pergolas, fascias and fences.
May be used on sundecks but will require regular re-coating.
Particularly suited for use on difficult to sand surfaces such as fluted or carved timber.
Not Suitable For Use On: Exterior Furniture.
Note: Nova 18 Novadye can be overcoated with Nova 12, Nova 14, Nova 15, Nova 16, Nova 17, Nova 19, Nova 20 & Nova 23
Finish                                     Matt
Re-coating Time                  24 hours 
Full Cure                                ± 7 days
Spread Rate                          8-10m²/lt per coat
Clean Up                                Nova 11 Cleaner & Degreaser
Note:
Nova 15 clear does not offer the same level of protection against UV rays (sunlight) as the pigmented grade Nova 15 Teak or Nova 15 Mahogany. It should therefore be used for re-coating only, where a coat of Teak or Mahogany has already been applied and the original colour of the timber needs to be preserved as far as possible. Every third or fourth re-coat should be done with Teak or Mahogany to keep the UV protection, especially if the colour has started to fade